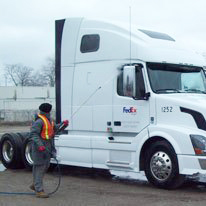 W
e Have a Pressure Washing Solution For You
Our mobile pressure wash services are available to clean all your vehicles including fleet trucks, trailers, cars, vans and buses. We also clean construction equipment such as tractors, back hoes, skid steers, forklifts, caterpillars, escavators, cranes, loaders, and dozers.
We degrease, remove paint and graffiti, do restorative cleaning, acid washing (for aluminum brightening) or general cleaning using our power washing equipment
Pressure Washing and Graffiti Removal
Satisfaction Guaranteed!