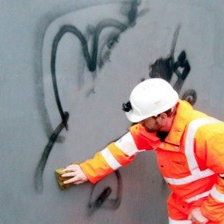 Excellent Service and Results
We are able to remove graffiti with our power wash equipment from all substrates including brick, concrete, stucco, glass, plastic, painted metal, aluminum, stainless steel and more.
The Graffiti we have successfully cleaned and removed includes marker, ink, stickers, crayon and spray paint.  The underlying service is restored for amazing final results.
Our pressure washing equipment is powerful, mobile and portable. It is capable of 5.5 gallons per minute, 3000 psi and up 200 °C. Power washing attachments include up to 600' of hose, extendable wands (up to 6.5') and we are capable of duel wash with 2 wands attached. We also have zero degree, 15 degree, 25 degree and 40 degree nozzles. 
Pressure Washing and Graffiti Removal
Satisfaction Guaranteed!